GRIP Outreach For Youth is a 501(c)3 nonprofit organization created to connect youth with caring, Christian mentors to build Life-on-Life relationships. GRIP provides programs and resources to develop young people spiritually, mentally, and physically.
At GRIP Outreach For youth, our mission is to invest in the lives of Chicago's youth through Christ-centered, Life-on-Life relationships. We have a vision for thousands upon thousands of kids to grow into solid Christian adults who will positively impact and contribute to society, their communities, their churches, and their families.
More specifically we want to see:
Thousands of transformed lives
Transformed cities
Strong local churches
Solid schools
Future leaders for Christ
Centers of excellence for urban ministry
We're striving to create a network of support for our youth, not simply by serving them and their families in the home, but also by partnering with local churches in our outreach programs, and by having a presence in the public schools, where our youth spend the majority of their time.
Our Approach
Life-on-Life
At GRIP, we believe that Christ-centered, Life-on-Life relationships is what God has invited us to build with youth in Chicago.
Why Christ-centered?
We take seriously the words of Jesus Christ (from Matthew 28:18-20) who commissioned His followers to make disciples of all people, immersing them in the character of God the Father,Son and Holy Spirit while teaching them His truth. Therefore, for the past 18 years, GRIP has remained committed to training and equipping thousands of adult mentors from local churchesto invest in Chicago youth with God's love and Jesus Christ's commission as our motivation. Just as Jesus "came not to be served, but to serve" (Matthew 20:28), we realize that mentorship requires dependency upon Him in order to keep us serving youth through the highs and lows of mentorship.
Why Life-on-Life?
When we refer to Life-on-Life, we are talking about a relationship that is so much more than "mentorship." Jesus walked life with His disciples, investing quality and quantity time with them, therefore we equip our adult mentors to spend time getting to know their mentee inside and outside of our programming. We challenge our mentors to care about a student as a whole person (emotionally, mentally, physically and spiritually). We also encourage our mentors to partner with their student's family in order to identify how best to serve them in order to develop their mentee holistically. As mentors open up their lives intentionally and consistently, life-on-life relationships can grow. Our prayer is that hundreds of Christ-centered, Life-on-Life relationships will form, empowering youth to know the love of God and grow in their purpose and identity, becoming young leaders in their homes, schools, churches and communities.
Our Model
Equip, Connect, Grow, Develop
We recruit, train, and equip an army of caring adult volunteers to serve as mentors to youth in the city. And we provide resources and ongoing support for these mentors as they engage and build deep relationships with young people.
We connect our mentors to students through our SLAM and GRIP The School programs. SLAM is a weekly, high-energy sports and team-building outreach that combines creative games with Bible teaching and time for one-on-one and small group discussion. GRIP The School mobilizes volunteers to serve in schools-as tutors, coaches, teacher aides, and more.
Our staff members mentor the mentors, coaching them to intentionally pursue and grow relationships with youth outside of our programs by spending time with them in their homes, schools, churches, and communities-essentially "doing life" together.
As mentors get to know youth, they are able to identify their true needs, partner with their families, and help develop them holistically. This could be in academics, life skills, career goals, family life, or spiritual life. GRIP's Future Steps program further helps prepare students for adulthood through college and career development, as well as internships and job opportunities.
Our History
Since its founding in 2004, GRIP has introduced a Life-on-Life relationship and the hope of Jesus Christ into the lives of hundreds of youth who desperately need someone to love them and walk life alongside them.
See Our History
Anwar Smith was named the Executive Director of GRIP Outreach For Youth effective April 4, 2022. In this role, he is responsible for the organization's strategy, development and operations, reporting to the Board of Directors.
Prior to joining GRIP, Anwar was Managing Director of Program Operations for By The Hand Club for Kids, a Christian ministry in Chicago. He has also served in leadership roles at the Salvation Army and Rawhide Boys Ranch. Anwar has also been serving as an Associate Pastor at Living Word Church in Lansing, Il for the past 12 years, 9 of which he was been the youth pastor. He has spent more than 20 years communicating God's love and hope in urban, suburban and rural settings both in the U.S. and abroad. Anwar holds a Masters of Education in Educational Psychology from the University of Illinois, Chicago and a Bachelors of Arts in Christian Ministry from Taylor University. He loves watching football, and going fishing and camping with his kids. Anwar currently resides in Lansing, IL with his wife Michelle and their two biological children. Anwar and his wife have been actively involved in foster care and have housed many children over the past 11 years.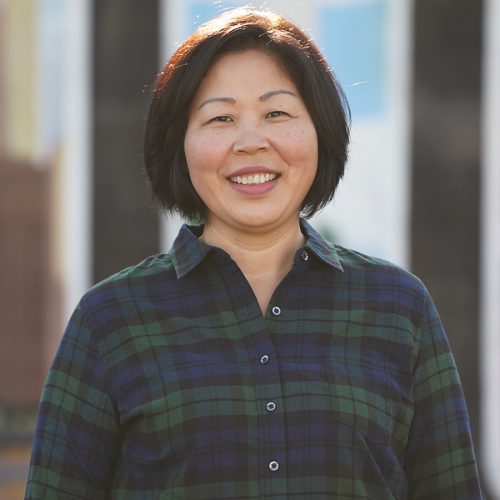 Sue Lee was born in Seoul, South Korea, and moved to the U.S. at the age of 6. She grew up in the northwest suburbs of Chicago but has lived in the city since 2000. A graduate of the University of Illinois, she previously worked as a Process Management Consultant with Accenture. Sue has been with GRIP since 2007 and is passionate about the impact that Christ-centered mentorship can have on a young person's life. As the Senior Director, Operations and Programming at GRIP, she supports and encourages staff in their roles in order to see more youth impacted by Life-on-Life relationships.
Sue currently lives in Logan Square with her husband, son, and daughter. She considers Chicago to be the greatest city on the planet and is a die-hard Chicago sports fan.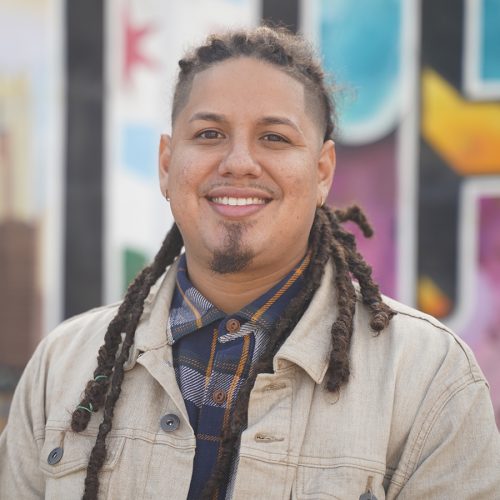 Aric Diaz joins GRIP staff as a Texas native, but he and his wife and two kids have endured the Chicago winters to invest in teens here in the city! As a Men's Mentorship Manager at GRIP, Aric equips and trains our volunteer mentors to walk Life-on-Life with youth. Settling in the Austin neighborhood of Chicago, he loves exploring different cultures and communities of the city, and when he's not spending time with his wife and kids, you can find him breakdancing or creating beautiful graffiti art pieces. Aric shares, "My favorite thing about my role at GRIP is that I get to enjoy meeting students who have become new believers as well as walk with brothers through life and the call to make disciples."
Bill Ferrell grew up in Scottsdale, Arizona, and is a graduate of Coronado High School, Arizona State University, and Trinity Evangelical Divinity School. He has lived in Chicago for 28 years and loves the culture, diversity, food, and weather (seriously). He has served as a campus pastor, local church pastor, Executive Director of a nonprofit ministry, and a marriage and family counselor. At GRIP, he serves as Community Relations and Development Director, presenting the mission and vision of GRIP to individuals, groups, and churches for the opportunity of partnership. Bill currently resides in Northbrook with his family; he enjoys biking, swimming, running, and skiing.
Growing up in Chicago, Darry has grown to love the diversity of cultures, people, and food found in our city. When he's not playing basketball or creating online content, you'll find him spending time with his wife, Tawatha, and their five kids. Although working as a mentorship manager at GRIP was a big transition from driving semi trucks, Darry is excited to use his experience working with church youth to impact the youth he connects with through GRIP
Raised in a small town in Nebraska, Emily attended Indiana University studying Contemporary Dance and Public Relations. After serving for two years as a mentor at SLAM Central, she joined full time staff as Women's Mentorship Manager where she is eager to encourage and support women as they walk Life-on-Life with students. She currently lives in Ukranian Village where she loves to take a good walk on the 606 or go Latin dancing with friends. Emily shares, "Mentorship has changed my life, and I have learned to love and know God more deeply through mentors who have poured into me. In my role, I love getting a front row seat in what God is doing in the city of Chicago through mentorship and eager to see lives change because of it."
Originally from South Carolina, Emily came to Chicago in 2018 and studied Communications at Moody Bible Institute. When she's not drawing or painting, Emily likes to keep active with hiking, ice skating, and exploring Chicago. She serves on staff at GRIP as the Multimedia Coordinator doing videography, graphic design, and event production. Her favorite part of working with GRIP is seeing the students' smiles at SLAM every Monday night! Emily believes in the power of the arts for connection, healing, and change in individuals and communities and she loves getting to support the work of mentorship at GRIP through the media arts.
Erick Correa is a Chicago native, and Gordon Technical High School alumni. He attended Southern Illinois University for college and is a certified personal trainer. He is a professional mixed martial artist and he likes to exercise. He and his family live in the Belmont Cragin neighborhood. Erick enjoys watching Cubs games, and at one point in his life, he enjoyed singing. He has a strong passion for discipleship and joins GRIP as the SLAM Program Director to invest in the lives of youth in Chicago.
"My favorite part of living in Chicago is waiting to see which happens first: Jesus coming back, or Cubbies winning the World Series," Erick shares. The Cubs won!
Growing up on a farm in Southern Illinois, Hannah attended the University of Illinois in Champaign, studying Marketing and Social Work. She moved to Chicago after beginning her career in corporate consulting. Now, she is serving as GRIP's Marketing & Communications Manager where she loves connecting with others through storytelling. Hannah loves time outdoors, preferably around pine trees and mountains. She loves reading memoirs, singing karaoke and laughing with her family. She lives in Humboldt Park with four of her best friends. Hannah shares, "My role with GRIP has been an unexpected answer to prayers. Being able to work closely with believers who have dedicated their lives to investing into the next generation is a true gift. I laugh more than ever and love this city more than ever."
Hailing from Indianapolis and graduating from Wheaton College, Julia is one of the most competitive people you will ever meet. When Julia isn't enjoying Lou Malnati's deep-dish pizza or going to Cubs games, you'll probably find her biking, drawing, or binge-watching SNL skits and Seinfeld. As residents of the North Lawndale neighborhood, Julia and her husband are passionate about investing in Chicago's youth—which is just one of the reasons Julia joined GRIP staff as a GRIP The School Coordinator in Al Raby High School, pouring into volunteer mentors and equipping them to walk Life-on-Life with Chicago teens. Julia shares, "I love investing in Chicago Public Schools; they are the heartbeat of our neighborhoods."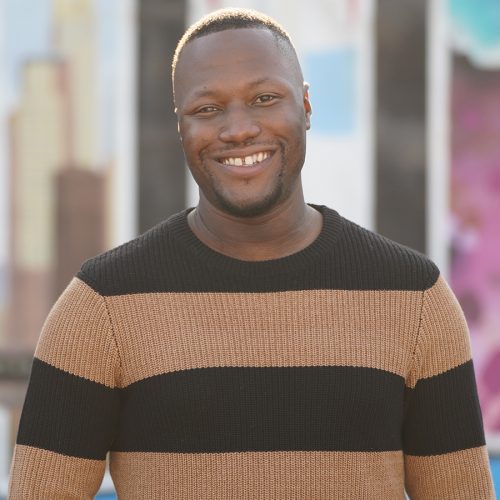 Hailing from Washington State, and graduating from Duke University, Kiel joins GRIP staff as the SLAM Program Director, having previously been on staff with Intervarsity and most recently Moody Bible Institute. When he's not playing basketball, he's probably watching it, but it's not just his love for sports, but his passion for Chicago's youth that makes him an outstanding person to coordinate our weekly SLAM outreach program. Kiel shares, "I enjoy my role at GRIP because I loved being a GRIP volunteer for 5 years—investing in teens and serving alongside other volunteers. I'm so grateful to be able to do that full-time now."
Growing up in Pittsburgh, Pennsylvania, Kylie comes to GRIP with experience as a Registered Nurse, and now serves as the Women's Mentorship Manager on staff at GRIP where she equips mentors to invest in Chicago's youth! When Kylie is not pouring into mentors, you can typically find her exploring one of Chicago's neighborhoods or spending time with friends in her home in the Auburn-Gresham neighborhood. Kylie shares, "I enjoy my role at GRIP because I'm able to connect with the mentors and students on deeper levels."
Growing up in Elk Grove Village, Mark joins GRIP staff as a Chicagoland native after working for 30 years in the marketplace as an investment consultant and then the Director of Operations and Client Service for a benefit consulting firm. In addition to his love for his wife of 27 years, and 3 daughters, he enjoys playing the guitar and he may be one of the only people you ever meet who discusses investing and budgeting for fun. These are just some of the many reasons he's a great fit as GRIP's Finance Manager. Mark shares, "A few of the things I enjoy about my role at GRIP are the people we serve and the people I get to work alongside."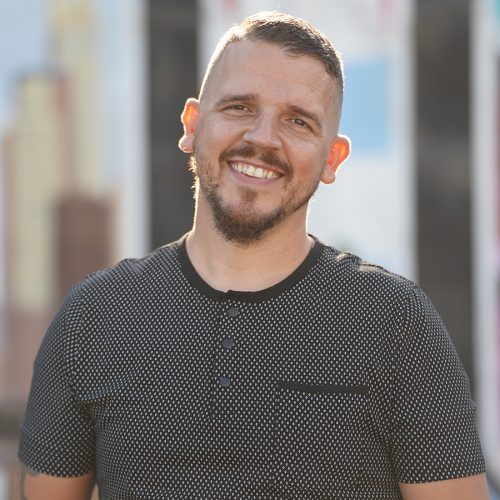 A jack of many trades, Mike worked at a production company for 12 years as a sound engineer, video editor, graphic designer, and production manager. He has been the production manager for the Legacy Conference since 2009, and joined GRIP's staff in August 2011 with the desire to use his creative talent in full-time ministry. Born and raised in Chicago, Mike is an avid Chicago sports fan. He is married to his high school sweetheart, Diane, and they have two handsome sons, Michael and Noah.
Raymond was born in Matteson, Illinois and attended school in nearby Olivet Nazarene University and Prairie State College. Prior to GRIP, he was a Shipping Coordinator/Production Assistant. Raymond enjoys talking about Jesus, discussing cinema (allegory, filmmakers, how people connect to art), listening to and discussing good music, and laughing at things people probably shouldn't be laughing at. His favorite thing about living in Chicago is the changing of the seasons. Raymond enjoys being part of the GRIP team and working specifically with the Programming Team to execute events like SLAM and training retreats. Raymond is currently taking classes at The College of DuPage to earn a certificate in Motion Picture Television and lives in Forest Park with his wife.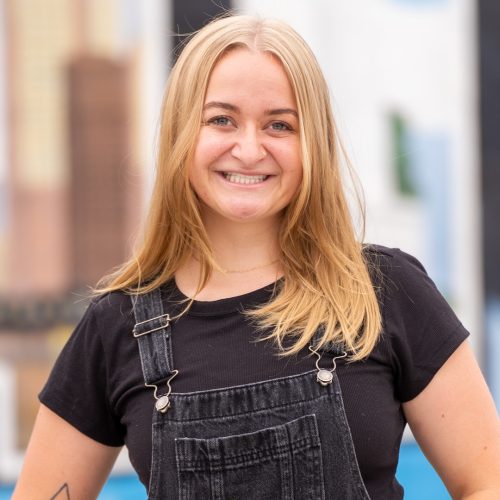 Shannon grew up in Kansas City, Missouri and loves her Kansas City Chiefs! She has quickly come to love life in Chicago, however, and enjoys living in the Humboldt Park neighborhood with her roommate and her dog, Dewey. During her free time, Shannon enjoys riding her bike, playing board games, watching documentaries, and swimming in Lake Michigan. Shannon has a background working with youth and was a volunteer mentor at SLAM before joining the staff. She enjoys her role as Events Manager because it gives her the opportunity to create spaces for people to connect with one another as well as connect to the mission of GRIP.
Shawn, who has been part of the GRIP family since 2011, is the Program Director of GRIP's Future Steps initiative, which leverages the strength of our Life-on-Life relationships and network to offer a community of support for our youth and young adults as they learn important life skills and pursue internships, jobs, and college and/or career goals. Originally from Florida, he worked as an actor and youth pastor prior to attending Moody Bible Institute in Chicago. Shawn also worked as an educator and director for What's Good – a character-based abstinence, education program in Chicago schools. He lives in the northwest side of Chicago and is married to his best friend, Pamela. They have been blessed with two beautiful daughters and other spiritual sons.
A Walter Payton College Prep, Moody Bible Institute, and Moody Theological Seminary grad, Will calls the Austin neighborhood his home. His range of experience - from child care worker, to campus police officer, to management at Enterprise - and love for Chicago inform his role at GRIP. Getting to serve as SLAM Director is exciting to him because it gives him the freedom and opportunity to make disciples in the city that he grew up in. Although he wishes there was less snow, he has a deep affection for Chicago, and shares: "Just about every good thing grabs me about our city, from the food, CTA, festivals, neighborhood cultures, and how all the streets are on a grid. Even some of the stuff I don't like, I have immense nostalgia for." In his free time, Will enjoys studying the Bible, preaching, sports, movies, and spending time with his wife, Leah.
Dave Lew, Chair
Senior Vice President, Strategic Marketing at St. Jude Children's Research Hospital – ALSAC
Steve Coble
Teaching Pastor, Renewal Church of Chicago
Jonathan Lavinier
Real Estate Broker, Baird & Warner
Kent Steiner
Associate Pastor, Chicago West Bible Church
Shane Summers
Owner/Trader, Summers Trading Company